Richard Copley

Physiotherapist Bsc.Physiotherapy (Hons)3D MAPS® Certified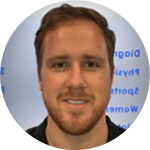 Richard completed his undergraduate BSc (Honours) degree at the University of the Free State in South Africa. He then went on to work in a government hospital in a rural area in the Free State province of South Africa as he completed his mandatory Community Service year. There Richard was exposed to several spheres of physiotherapy including but not limited to musculoskeletal (MSK), neurological, orthopaedic and medical/respiratory cases.
Along with his Community Service responsibilities, Richard simultaneously headed up the physiotherapy department for the University of the Free State hockey club. This saw Richard treat a host of international level players and afforded him the great opportunity and privilege of travelling the country as both men's and women's teams participated in national and university level competitions & tournaments.
Richard then decided to broaden his horizons and seek a new challenge in London with a role in private practice tending to MSK related conditions and has remained in private practice ever since. Richard's love for the physiotherapy profession is vast and he has a keen interest in MSK conditions which began during his undergraduate studies and dissertation in the MSK field.
Richard is immensely interested in and passionate about manual/hands-on treatment, as well as integrating different modalities of treatment for the overall benefit of the patient. He loves sport and exercise thus, he naturally enjoys working with teams, athletes and/or sport-related injuries and performing sport specific rehabilitation.
Richard has continued his professional development since the completion of his undergraduate studies with courses in Dry Needling, Kinesiology Taping as well as upper and lower limb biomechanical classes. His special fields of interest include acute and chronic neuro-musculoskeletal conditions, cervical conditions such as whiplash, and sport specific injuries with a special inclination to ankle conditions as well as myofascial release work.
Outside of physiotherapy Richard enjoys watching and partaking in sport namely; football and field hockey which he excelled at in his schooling and university days. Other interests include travel, film and music.
.
Special Interests

Lower Limb InjuriesSpine Related InjuriesReturn To Sport RehabilitationShoulder Injuries