Jonathan Kay

Sports Massage Therapist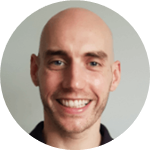 Jonathan specialises in sports and deep tissue massage, soft tissue injuries and sports rehabilitation.
A former professional rugby player, it was during his recovery from a serious knee injury that Jonathan developed a passion for the treatment of sports injuries and injury rehabilitation programmes which led him to choose a career as a sports massage therapist.
Jonathan received distinctions in both Level 3 & Level 4 Sports Massage from St Mary's University and has a Diploma in Sports Therapy. This allows him to quickly identify your pain points and plan the most effective course of treatment to fit your lifestyle and assist your training regime.
Still a keen sportsman, Jonathan trains regularly and will be taking part in his first swimming endurance challenge in 2019 - wish him luck!
Whether you are a weekend warrior, training for a specific event or in need of relaxation, Jonathan will tailor a high-quality treatment specific to your needs.
Special Interests

Functional & Pain Management Soft Tissue InjuriesInjury RehabilitationTrigger Point Release