Anna Borowska

Pilates Intructor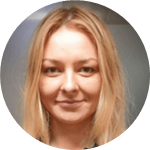 Anna (like the rest of our team!) is passionate about health and fitness. Over the years she participated in many different exercise methods, including Capoeira and Brazilian Jiu Jitsu, before discovering Pilates. Her love of Pilates was born after a Jiu-Jitsu competition injury when she discovered the benefits of spinal rehabilitation through the Pilates method. It was Pilates that enabled her to continue with Martial Arts post-injury.
After years of self-practise in Pilates, Anna decided to progress her Pilates journey by training to become an instructor and so she gained her instructor Certification through Body Arts and Science International (BASI Pilates). Anna relished the knowledge she gained in a broad range of related disciplines, and this provided a solid platform with which to embark on her career as an instructor.
Anna loves the creativity involved in teaching Pilates - how exercises can be adapted and combined to produce beautifully flowing and functional movement. She enjoys the challenge involved in transforming someone with little body awareness into someone strong and graceful.
Anna believes it is important to keep up-to-date with the latest research, concepts and trends in the movement and fitness industry and enjoys attending workshops to broaden her knowledge and meet like-minded people.
.