Irene Albertson | Director & Co-owner

Physiotherapist Bsc.Physiotherapy (Hons) Pilates Instructor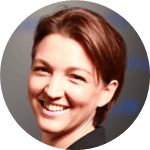 Irene qualified with her BSC.Physio (Hons) degree with distinction in South Africa in 1997. She was awarded the Jean Blaire medal for the best Clinical student in her 3rd and 4th years of study. In 1994 she also qualified as a sports massage therapist and achieved a Diploma in Fitness Consulting.
In more recent years she has gained postgraduate training as a Pilates instructor through the APPI (Australian Pilates and Physiotherapy Institute) and has also privately consulted as a workstation ergonomist for medium-sized companies in London.
In June 2007 she opened the doors to Southfields Physiotherapy with the aim of providing local residents with professional, friendly help from caring and well-qualified professionals.
Irene, like the rest of the team, will treat all musculoskeletal problems from spinal pain to sports injuries. As an ex-gymnast of 12 years she has a special interest in treating gymnastics, martial arts and dancing injuries; carrying out post-operative rehabilitation for any orthopaedic problems; treating patients with hypermobility and chronic pain and combining manual therapy with exercise programmes, particularly incorporating Pilates for improved core stability.
Special Interests

Rehabilitation Injury PreventionPerformance