Lesley Phillips

Personal Trainer Pilates Matwork and Dynamic Reformer trainedBA Sport Psychology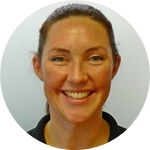 Lesley's love of movement started at a young age with ballet, gymnastics, and a host of other sports. It was eventually hockey that grabbed her focus at school and university where she played at provincial level and attained coaching and umpiring certificates.
Lesley completed a Sports Psychology degree at the University of Johannesburg and also completed a Sports Massage Diploma during this time. After her degree, she went on to study a further 2 years of Therapeutic Massage. Lesley gained experience working as a massage therapist both on a cruise ship and at a Chiropractic Clinic in South Africa, where she enjoyed a collaborative, holistic and patient-centered approach. She worked with a wide variety of clients like athletes, desk workers and those with tough, physical jobs, with a broad scope of musculo-skeletal conditions.
Lesley went on to train as a Pilates Instructor so that she could better serve her clients by helping them to address the root cause of their aches and pains. She added Reformer Pilates training to her skillset after teaching matwork Pilates for several years.
After moving to England Lesley finally found her vocation in life and qualified as a Personal Trainer. She has taught Pilates, fitness classes and trained individual clients in gyms across London and as a freelance trainer. Lesley is passionate about educating her clients on the importance of movement, and how to perform exercises safely and efficiently. At Southfields Physiotherapy she works closely with the physio team, assisting with rehabilitation programmes for clients who have had injuries or pain. She enjoys introducing absolute beginners to Pilates and transitioning Pilates 'die-hards' into progressive and exciting functional training programmes in the gym and beyond!
Special Interests

Exercise For Pain Relief Transitioning From Pilates to Personal Training Absolute Beginner Pilates Pilates For Sport