Susi Owusu

Pilates Intructor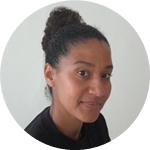 Susi is an Alan Herdman certified Pilates Instructor with further qualifications from the BASI Pilates in injury prevention and rehabilitation. Since qualifying, Susi has been working alongside Physiotherapists offering rehabilitation and classes specifically tailored to groups such as runners, cyclists, swimmers, and those recovering from injury.
With a keen interest in functional movement, Susi works with clients to explore and understand movement patterns with the aim of undoing bad habits and instilling good ones.
She is currently studying and exploring movement as play and the role of fascia. Acknowledged as a fun, knowledgeable and kind teacher by her clients, she always finds time to help each individual to achieve their goals.
.