Sheldon Allen | Movement, Rehabilitation & Performance Specialist

Fellow of Applied Functional Science® (FAFS) Functional Manual Reaction® (FMR) Functional Golf Specialist® (FGS) Sports Massage Therapist 3D Movement Analysis and Performance Systems Certified (3DMAPS®)Certified Functional Movement Expert (FMS)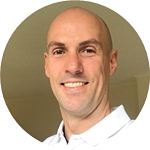 Sheldon has a real passion for functional movement, biomechanics, rehabilitation, performance and people and enjoys working with a wide array of patients and clients of all ages and abilities. With his extensive knowledge of human function and biomechanics, he is highly successful at helping clients with injury rehabilitation, movement and performance goals. Sheldon has been in the fitness industry for over 17 years and within the medical field for the past 10 years.
Sheldon is certified through the Gray Institute in applied functional science (CAFS), 3D Maps Movement and Performance systems (3D MAPS) and has recently completed his fellowship in Applied Functional Science (FAFS).
He gained his qualification as a health and fitness coach through the National Academy of Sports Medicine. He qualified as an advanced kettlebell instructor through Kettlebell Training Academy, one of the largest academies of its kind in Europe. He is an advanced Level 2 FMS expert and is Y-Balance certified.
Sheldon was passionate about sport from a young age and this naturally led him to gain certificates in sports conditioning in agility, quickness and reactivity, sport core and sport balance through TWIST academy. Sheldon has helped a wide range of clients achieve better results. It is his practical approach and application to movement quality rather than quantity that makes him a successful trainer. He believes that each person is truly unique and designs an individualised training system for each of his clients.
Your sessions with Sheldon will be well balanced, but challenging. He believes that movement progressions must be earned. He will provide a wide array of equipment and a range of training options. Try kettlebell training to learn how to use and maximise physical performance and function. Use boxercise and kickboxercise for a great all-around conditioning session. Or practise core function, balance and integrated exercises. Take your fitness and function to a new level and have some fun along the way.
As a youngster, Sheldon excelled as a sportsman and achieved both school and provincial colours for swimming and athletics. He also enjoyed five years of amateur boxing and even spent time as a stuntman. In 1998, he acted as Dolph Lundgren's body double in the film Sweepers, shot on location in South Africa.
Special Interests

Functional & Running Biomechanics Golf Biomechanics & Performance Rehabilitation & Injury Prevention Performance KettlebellsMovement