Robbie Milne

Sports Massage Therapist Sports Massage Diploma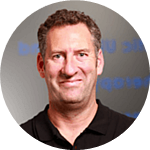 Robbie has been a sports massage therapist for over 20 years. He has treated clients of all ages, from all walks of life and with all types of pain and discomfort. Robbie's clients have ranged from elite tennis players requiring 3-hour massages between matches, to stressed-out people needing to relax at the end of a busy week and clients with double hip replacements that need to get back to full mobility.
He is very experienced in working alongside the physiotherapists, and other health care professionals in our team to ensure the best possible results for our clients needing help with soft tissue problems. Whether you need a couple of treatments to get you back on track or if you require sports massage as an integral part of your training programme, Robbie will help you get your body back to its optimum state.
Outside of Southfields Physio Robbie works as a corporate coach and workshop facilitator. He runs a squash team in the Surrey leagues and when time and circumstances allow will sneak off to the mountains to play on his snowboard. He has 2 teenage sons who make him proud every day.
Special Interests

Rugby InjuriesTennis Specific RehabEndurance Running Pre & Post Event