Michael Glover | Clinical Lead Physiotherapist

- Chartered Physiotherapist- BSc. Physiotherapy (Hons)- MACP trained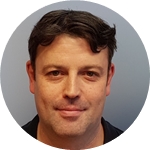 Michael qualified as a Physiotherapist from the University of East London in 1997 and has worked in both the Public and Private sectors specialising in Neuro-Musculoskeletal Medicine. During this period he has been fortunate to work alongside some of Europe's leading Consultants in Orthopaedics, Rheumatology, Sports and Exercise Medicine, Podiatry and Radiology. He has managed and practiced in large London Hospital Trusts; Guys and St Thomas', Barts Health, Barking Havering and Redbridge. Alongside his clinical and managerial responsibilities, he has been involved in academic education delivering lectures, group sessions and clinical placements to GPs as well as BSc and MSc Physiotherapy students.
With over 20 years of clinical practice Michael has extensive experience and expertise in treating all Musculoskeletal problems. Michael uses a combined approach of Manual Therapy, Soft Tissue techniques and exercise prescription to aid recovery. Michael's main areas of interest are sports injuries management and prevention, tendinopathy, translating evidence to clinical practice and linking movement impairment to pathology. He also holds interests in Isokinetic strength evaluation and assessment, biomechanical assessment and analysis.
Michael is an ex-international athlete having competed at Club, County, National and International level for both the North and South of Ireland and holds a sub 2 hours and 53-minute Marathon time. He is an ex-All-Ireland Cross-Country Champion. Other sports he has participated competitively include Soccer (Youth International), Gaelic Football and Hurling.