Martin Sarembock

Physiotherapist Bsc.Physiotherapy (Hons)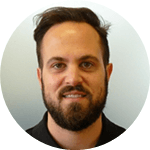 Martin graduated from the University of Cape Town in 2008 with a BSc. Physiotherapy. He subsequently completed a postgraduate course in Orthopaedic Manual Therapy (OMT), after which he successfully ran his own private practice for four years. Given his deep passion for sport, Martin has focused both his work and studies on maximising his exposure and experience working with professional athletes.
He most recently spent two years as a physiotherapist at The Sharks Rugby Union in South Africa, where he treated domestic and international-level players on a daily basis, gaining exceptional experience within a professional sporting
environment. Martin completed his Masters in Sport Physiotherapy at the University of Cape Town in 2014 and his research into injury prevention was published in the South African Sports Medical Journal. During his studies he served as the head physiotherapist for a local rugby club, as well as working at numerous prestigious sporting events, ranging from the Cape Argus Cycle Tour to the Two Oceans Marathon and the Volvo Yacht Race.
Martin has significant expertise in both sport and clinical environments given his past experience. His involvement in professional sport has given him the opportunity to work closely with athletes – from the moment of acute injury through to full recovery, whilst also having worked extensively in private practice. In every instance, Martin's philosophy is underpinned by a holistic approach towards treatment, irrespective of athletic ability or level of activity.
His main areas of interest are in post-operative recovery, acute and chronic neuromuscular-skeletal injuries and specific sports injuries. Martin is qualified to use dry needling as well as an array of rehabilitative, soft tissue and joint mobility techniques. One of his key areas of focus and interest is in early mobility to assist in pain management and quicker return to activity or function. Outside of work Martin enjoys being active (surfing, skiing, pilates and hiking). His other interests include cooking, travelling, photography and film.
Special Interests

Lower Limb InjuriesSpine Related InjuriesReturn To Sport RehabilitationShoulder Injuries