Marcella Gavidia

Sports Massage TherapistPregnancy Massage Therapist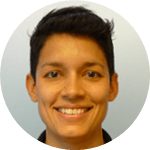 Marcella is an all-embracing, enthusiastic massage therapist with the desire to enhance the lives of others by reducing stress and pain through a connective and integrative approach to manual therapy, injury rehabilitation and prevention, and general physical well-being.
She has always enjoyed playing sports and various outdoor activities throughout my life, and like many others, she suffered a significant injury. After injuring her knee while skiing, she experienced first-hand how massage therapy can complement other rehabilitation therapies by relieving pain and enhancing each phase of recovery post-surgery.

Marcella also understands that it is not only sport and activity that cause pain and injury but also the strains and stresses of everyday life. Through her treatments she strives to bring an awareness to the body, understanding what is causing any pain or discomfort to begin improving one's health. She loves keeping active - be it through regular exercise, in the ocean, at the park, or on the mountains - and having a properly functioning healthy body is key to enjoying all that life has to offer.
Marcella qualified at The London School of Sports Massage as a BTEC Level 5 Soft Tissue Therapist.