Jo McGilchrist | Physiotherapist

Chartered PhysiotherapistBSc. PhysiotherapyMSc Sports Injury Rehabilitation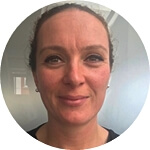 Jo graduated from St. Georges University in 2008 with a BSc in Physiotherapy. She completed her rotations at Kings College Hospital prior to specialising in musculoskeletal physiotherapy as a senior physiotherapist for the NHS. From there Jo turned her focus to specialising further in injury rehabilitation in private practice.
After the Rugby World Cup in 2014, she completed an MSc in Sports Injury Rehabilitation in conjunction with the EIS (English Institute of Sports), where she looked at the accuracy of hip assessment tests in GB Taekwondo athletes. She has spent the last 5 years working in professional rugby, including 3 seasons at Gloucester Rugby providing pitch side care, and both acute and long-term management.
It is during her time at Gloucester that she was responsible for the post-operative rehabilitation of the players. Jo played rugby for England for 8 years, achieving 63 caps and 2 world cups, one of which England won in 2014. It is not surprising then that Jo enjoys treating rugby injuries such as soft tissue injuries (such as groin, hamstring and calf strains or tears) as well as the more traumatic injuries requiring surgery.
Special Interests

Sports Injuries High Level Injury Rehabilitation Post-operative Treatment & RehabilitationShoulder Injuries