Ian Repton | Physiotherapist

Chartered PhysiotherapistBSc. Physiotherapy (Hons)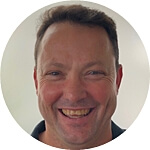 Ian qualified as a Bachelor of Physiotherapy (honours) from the University of Pretoria in 1997. Having a huge passion for sport he also did 2 years of a Human Movement Science degree. Ian started his own clinic in Pretoria in 1999 and in 2002 he became a partner in McCord and Repton Physiotherapy.
They established 4 clinics in the Pretoria area and only ended the partnership when Ian and his family emigrated to the UK in 2019. Ian was contracted to Northern Titans Cricket from 1999 for 16 seasons and his work with the cricketers included assessment, treatment, rehabilitation, and injury management of all the contracted players. He also worked as the Head Physiotherapist for the South African "A" cricket team and toured Australia, India, West Indies, Sri Lanka, and Zimbabwe with the team.
Other sporting teams and individuals Ian has treated include golfers Ernie Els and George Coetzee and the Great Britain Gymnastics team on their travels to South Africa. Ian is extremely experienced in the assessment and treatment of sport, orthopaedic and musculoskeletal injuries and finds his greatest reward is seeing the joy on an athlete's face when they resume pain-free training.
He believes in going back to basics by first mobilizing the soft tissue or joint and then overseeing a gradual increase in active rehabilitation exercises. Ian achieves an excellent balance of manual therapy and exercise rehabilitation to help his patients. He has also completed courses in kinesio-taping, dry needling, and hydrotherapy. Apart from his clinical skills he has also completed courses in Medical Practice Management. Recreationally Ian enjoys playing any ball sport. He is a single figure golfer and past provincial hockey player. Having a social beer with family and friends is also high on his agenda during his downtime!
Special Interests

Shoulder Rehabiitation Lower Back Pain & Rehabilitation Sports InjuriesPost-Operative Rehabilitation