Harriet Milligan

Sports Massage Therapist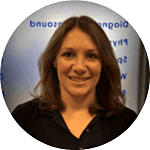 Harriet recently made the decision to change career paths and retrain in sports massage and remedial therapy. Her move away from academia to massage therapy was driven by her passion for fitness, movement and the positive impact of a healthy body in life. As well as the hope of helping others to be pain-free and perform at their best in life and chosen activities.
Having studied to doctoral level she has a love of research and problem solving, which can be applied to the complexities of the body, treating soft tissues and working with injury prevention and rehabilitation. She is also keen on fitness having completed marathons, powerlifting and CrossFit competitions.
Harriet trained at the North London School of Sports Massage, attaining BTEC Level 5 in Sports Massage and Remedial Therapy.