Fiona Buchanan

Pilates Intructor Physiotherapist
BSc. Physiotherapy (Hons)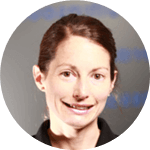 Fiona qualified with a Physiotherapy degree from the University of Brighton in 1996 and has undertaken postgraduate training in Women's Health Physiotherapy with the POGP. Having previously worked as a Physiotherapist for the NHS and the Army she has gained extensive experience in treating musculoskeletal problems and teaching Pilates in a clinical setting and is an APPI Certified Pilates Instructor.
In her spare time, Fiona enjoys running, swimming and cycling and has personally experienced the benefits of Pilates on her sporting performance in triathlon and with recovery from various injuries. She also has a special interest in treating animals and works part-time as a Veterinary Physiotherapist.