Elré De Bruin

Pilates Intructor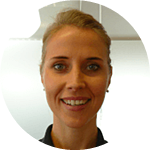 Elré is a STOTT Pilates and Exercise to Music Certified Instructor who focuses on teaching Pilates and HIIT classes to anyone looking for an effective, challenging and intelligent workout. Above and beyond that she's more than willing to help you with your unique health and fitness journey anytime, anywhere.
Group exercise has been part of Elré's daily routine for over ten years, and the lifestyle has completely transformed her.
Since focusing her career on Pilates, she has noticed a significant improvement in her ability to move – from pushing herself to the limit at the Edinburgh Marathon and two Half Ironman's to everyday work, life and play. Before she worked in Publishing and FMCG at Penguin and Unilever and has an Honours degree in Supply Chain Planning from the University of Stellenbosch.