Christina Tomlin

Sports Massage TherapistWellbeing Massage Therapist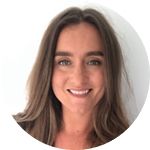 Chrissy has been a qualified massage therapist since 2006. She has studied Level 3 Sports Massage at Sports Therapy UK and has diplomas in advanced deep tissue massage (which includes trigger point therapy and myofascial release) and pregnancy massage.
Chrissy is also trained in a variety of wellbeing massages, including Indian head massage that she studied at the London centre of Indian Champissage International. She also offers Swedish Massage, Hot Stone Massage and can use pre-blended aromatherapy oils on request.
Chrissy's interest in wellbeing and holistic health care was a catalyst in pursuing a career in massage therapy. Her mother became very ill several years ago with a prognosis of being bed bound for up to six years. She treated her with massage, addressed her diet and encouraged her to take a natural holistic approach. She astounded her GP by having her back on her feet in 4 months in the best health she had experienced in years. This miraculous recovery only served to reinforce what she already believed - that natural therapies can be the most powerful healers.
Chrissy has a passion for helping people to feel better physically and mentally and believes strongly in the powerful and healing benefits of massage. In her free time, Chrissy enjoys kickboxing, yoga, Pilates and spinning.
Special Interests

Increasing Mobility Improving Mental Health & Reducing Stress Preparing For An Event/Active LifestyleSleep-related IssuesDesk/Job-related DiscomfortHeadaches, Migraines, & Jaw DiscomfortPregnancy & motherhood