Bev Elliott

Physiotherapist Bsc.Physiotherapy (Hons)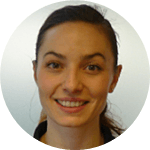 Bev graduated from Brunel University, London with a BSc. Physiotherapy honours degree. Prior to her physiotherapy studies, she trained as a Ski instructor in Canada and completed a degree in Spanish and International Relations. It is Bev's passion for healthy living and fitness that led her back to the books to train as a Physiotherapist.
Since graduating, Bev has also qualified in Sports Massage and is currently undertaking her APPI Pilates training. Bev has experience working in varying specialities including Women's Health, Trauma and Orthopaedics and Neurorehabilitation. Her wide exposure has equipped Bev to deal with both acute and late-stage rehabilitation following trauma or surgery, as well as managing rehab protocols for neurological conditions such as Parkinsons, Multiple Sclerosis and Muscular dystrophy.
At Southfields Physiotherapy Bev provides hands-on treatment and exercise interventions for a broad scope of musculo-skeletal conditions, including sports injuries and spinal conditions. Additionally, Bev has a special interest in chronic pain and believes that by better understanding our pain and promoting regular, functional movement, people can be empowered to self-manage their conditions. As a new Mum, Bev also enjoys the challenge of working with and treating pre and post-natal musculoskeletal conditions.