Anri Visser

Physiotherapist MSc.PhysiotherapyB.Human Movement and Applied Sciences3D MAPS® Certified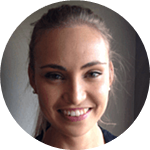 Anri graduated from Flinders University in South Australia, Adelaide with a Masters in Physiotherapy. Prior to this, she completed an undergraduate degree in Human Movement and Applied Science, held advanced certifications in fitness and worked as a personal trainer for 6 years.
Anri gained experience working in private practices in Adelaide with varying specialities including general musculoskeletal conditions, functional movement assessments and complex chronic pain conditions. Due to the complexity of the presenting conditions, she was in close liaison with a team of general practitioners and consultants to provide an effective and seamless healthcare journey.
Anri has a keen interest in functional movement, human biomechanics and corrective exercise and is passionate about delivering treatments and exercise interventions that not only alleviate pain and dysfunction but lead to optimal physical function. She enjoys the challenge of working with and treating a broad range of clinical musculoskeletal conditions including headaches, spinal, upper limb and lower limb injuries and she has a particular interest in dysfunctional lower limb biomechanics.
Special Interests

Hip Knee & Ankle Biomechanics Cervicogenic HeadachesPre & Post Natal Strengthening & Rehabilitation Restoration Of Functional Movement Patterns Late Phase Rehabilitation