Personal Training Southfields
Working with a personal trainer at Southfields Physiotherapy can be an effective way to improve your health, fitness and overall wellbeing. Our personal trainers are based at our exercise studio and rehab clinic in Replingham Rd Southfields which is easily accessible from Wimbledon, Earlsfield and Putney.
Our Personal trainers can help you improve on areas like cardiovascular health, strength, flexibility, endurance, posture, balance and co-ordination. Personal training in Southfields is not only a safe and effective way to improving your health but it is also fun and educational.
Southfields Functional Training.
Our personal trainers work closely with our physiotherapists and promote functional training which leads to better muscular balance and joint stability.
Functional training has its origins in rehabilitation and attempts to adapt or develop exercises which allow you to perform daily activities easily, with strength,efficiency and without injury.
So whether you starting out for the first time, in need of a change or returning from injury we believe our trainers will be able to help you achieve your goal.
Our Exercise Studio in Southfields.
The exercise studio is well equipped, private and spacious and is used for both training and exercise rehabilitation.
We utilise functional training equipment like the Swiss Ball, BOSU, TRX suspension training, Resistance cables, Kettlebells, Indian clubs, Theraband and Medicine balls.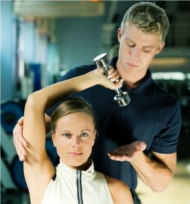 The Session
Sessions are designed to suite you as an individual and are based on your personal goals. We take into account various factors that will improve health and fitness.
Quality of movement is the theme for each session so movement analysis and screening is where we start.
SHARE THISMake an enquiry