Anri Visser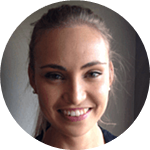 Physiotherapist
B.App.Sc M.Pthy
Anri graduated from Flinders University with a Masters in Physiotherapy. With a previous degree in Human Movement and Applied Science, and Certificates III & IV in Fitness, she has 6 years' experience as a Personal Trainer and a background in various sports.
Anri is passionate about the concept of functional movement to treat and prevent injury through a combination of manual therapy techniques, Dry Needling, Functional Movement Analysis and corrective exercise.
She is a lifelong learner and keen researcher who is committed to improving wellness in others.