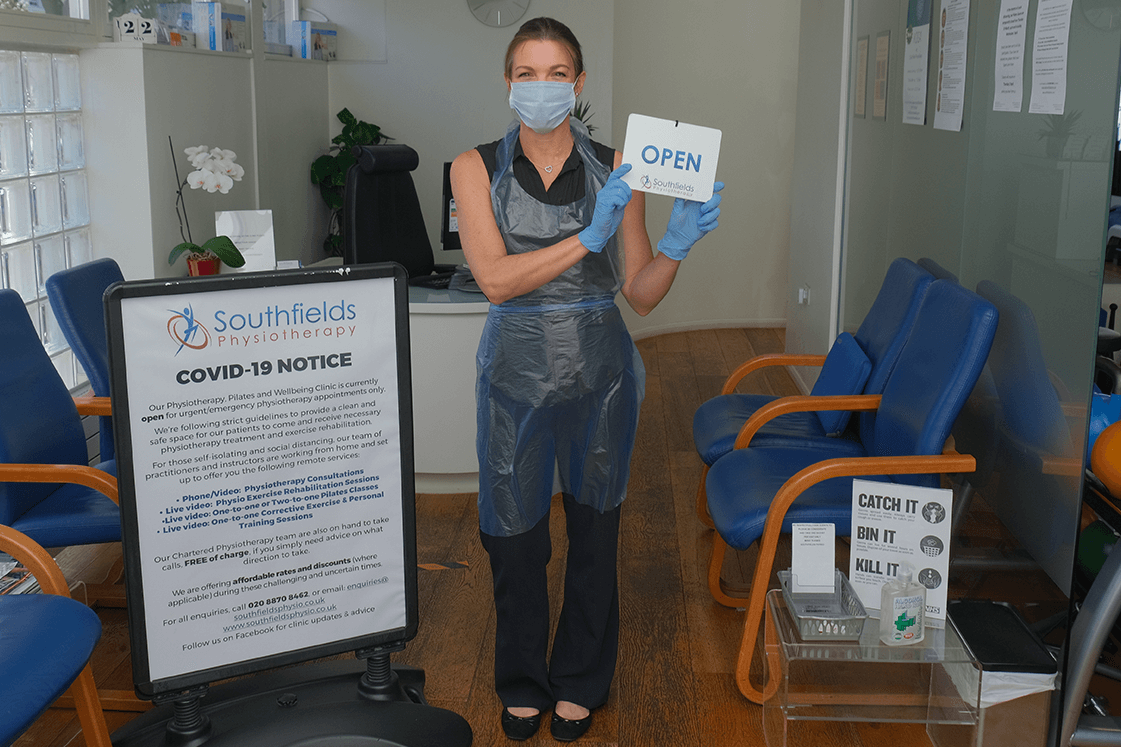 National Lockdown 4 Jan - Open for face-to-face Physiotherapy
Updated 5 Jan 2021
Southfields Physiotherapy will remain open during the National Lockdown for Face-to-Face Physiotherapy appointments and we continue to deliver Virtual (Phone/Video) Consultations where face-to-face appointments are not possible, or COVID-19 safe.
We are following the guidelines set out by our governing body, the Chartered Society of Physiotherapy (CSP), when deciding if a face-to-face appointment is appropriate. This will be determined by the Chartered Physiotherapist during your initial Free 15-minute Screening Call.
To book a physiotherapy appointment:
Please call us on 020 8870 8462
Or Email on This email address is being protected from spambots. You need JavaScript enabled to view it.
We currently have a full-time reception service to handle all calls, emails and bookings for our face-to-face physiotherapy appointments, remote consultations and live-streaming services (listed below).
Our Physiotherapy, Pilates and Fitness team are all set up at home and ready to be of service to you via virtual phone or video calls or Zoom live streaming.
Our Pilates classes are continuing via Zoom live streaming and restarted on 4 January 2021. Private one-to-one sessions will continue. All paid-up members of our Pilates blocks also have exclusive access to pre-recorded classes, by our instructors, on our Southfields Physiotherapy YouTube channel. New participants are welcome.
We are offering affordable rates and discounts (where applicable) during these challenging and uncertain times. Please contact us to discuss your needs rather than go without help.
Please see our Southfields Physiotherapy Facebook page, Southfields Physio Instagram, or subscribe to our Southfields Physiotherapy YouTube channel for regular news and updates, and videos offering free, relevant COVID-19 posture, ergonomics, health & fitness advice.
What you need to know about attending our clinic for face-to-face physiotherapy appointments during our phased re-opening:
The health & safety of our patients, clients and staff members is our first responsibility.
We are following the latest guidance from our governing body, the Chartered Society of Physiotherapy, on how face-to-face appointments may be delivered.
We are following the latest government guidance on infection control, social distancing and phased re-opening.
We are continuing with virtual (phone/video) consultations.
Please do not attend the clinic if you:
Have a temperature above 37,8 C.
Have a new, persistent cough.
Have recently lost your sense of taste or smell.
Are experiencing shortness of breath, headaches, or extreme fatigue that you think may be due to COVID-19.
Have been in close contact with someone who has been diagnosed with, or suspected of having, COVID-19 / Coronavirus
The following procedure will be followed when you call to book an appointment:

STEP 1: No-charge 15-minute screening call with one of our Chartered Physiotherapists, to:
Ask some basic questions about your condition to establish the nature and severity of the problem. If physiotherapy is not the right course of action we can refer you to your GP, relevant specialist, or give advice on what to do next.
Decide whether we can assist you by virtual consultation first (following CSP guidance), or whether face-to-face is required from the outset.
Complete our COVID-19 screening questionnaire, and establish if it is safe for you to attend the clinic (if it is decided that a face-to-face appointment is the best course of action for your problem/condition).
To answer any questions you may have about your safety, infection control, or the delivery of treatment, if you require a face-to-face consultation.
Help you to book an appointment and our reception team will email you the necessary documentation to fill in ahead of time, including your client details and consent form, and your COVID-19 screening questionnaire.
STEP 2: Preparing for your face-to-face consultation:
Please ensure you know how COVID-19 is spread and contracted, and what the risk factors are.
Please bring your own face mask and towel to the consultation.
Please only arrive at the time of your appointment. If you arrive early, please wait outside, or in your car.
Please place your mask on and wash your hands on arrival at the clinic, and use the hand gel provided.
Please follow the social distancing guidelines within the clinic.
Please pay at the time of booking if possible to minimise interaction with the reception staff and equipment.
What we have done to provide a safe environment for you and our team:
Reduced the number of staff and patients on-site at one time.
Modified the set-up of the clinic to optimise social distancing for those on-site.
Increased the spacing between appointments to prevent patient cross-over, and allow time for the treatment rooms to be cleaned and disinfected between appointments.
Your physiotherapist, or practitioner, will be wearing PPE, including a face mask, single use apron and gloves, and eye/face cover as appropriate.
Your physiotherapist will take your temperature and double check that you are symptom free before your appointment commences.
Completed risk assessments, as per guidelines, to ensure the provision of the safest possible environment for you during your visit to the clinic, and to do whatever we can to ensure we minimise the risk of spreading or contracting COVID-19 infection. This includes our infection control procedures, the provision of PPE, the safe disposal of PPE, and social distancing protocols.
Modified our equipment use protocols.
Please note:
Although Southfields Physiotherapy has taken all necessary measures to keep you and our team as safe as possible, face-to-face physiotherapy involves close contact between the patient and the practitioner, and there is still a risk of transmission or exposure to COVID-19.
We thank you for your understanding and cooperation as we continue to do our best to provide a safe and effective service to our clients.
CURRENT SERVICES AND FEES
| | | | |
| --- | --- | --- | --- |
| Physiotherapy Initial Consultation | Face-to-face | 45 mins | £65 |
| Physiotherapy Follow-up Consultation | Face-to-face | 30 mins | £49 |
| Physiotherapy Initial Consultation | Phone/ Video | 45 mins | £50 |
| Physiotherapy Follow-up Consultation | Phone/ Video | 30 mins | £40 |
| Physiotherapy Screening Call | Phone | 15 min | Free of charge |
| Ergonomics Consultation | Video/Zoom | 30 mins | £35 |
| Pilates Matwork – One-to-one | Video/Zoom | 1 hour | £45 (single) |
| | | | £200 (block of 5) |
| Pilates Matwork – Two-to-one | Video/Zoom | 1 hour | £60 |
| | | | £250 (block of 5) |
| Pilates video bundles (choice of 4 classes) | | | £40 |
| Personal Training/ Corrective Exercise | Video/Zoom | 1 hour | £45 (single) |
| | | | £200 (block of 5) |